Revised 12/02/06
Cessna 150 inspections for 1959 thru 1963 models

Email me at hannacm@charter.net

Visit Charles' and Dusty's homepage

Return to the Early Cessna 150 Inspection Homepage

150 home / Charles's Home / Misc Items / MLG Insp / Firewall / Rudder & Vertical / Tailcone / O-200 / O-200 Oil Flow / Props / Jacking / Shoulder Harness / Links / Owner Mfg Parts / Owner Maintenance / IO-240 Dream Engine

Tailcone and Horizontal Stabilizer/Elevator Inspection
Legal stuff: The material presented below is for educational/entertainment/reference use only and should not be used as documentation in the inspection and repair of any aircraft. You should always consult the Manufacturers FAA/CAA approved documentation such as Maintenance Manuals, Service Letters and Bulletins, Kit instructions, STC's, etc. for inspection and repair information and procedures. I make no claim or warranty as to the accuracy or completeness of the material presented, and accept no responsibility for its use or misuse. Also, this web page or any other of mine, is not connected with, or approved or sanctioned by Cessna Aircraft Corp. or any other entity named herein. Charles M. Hanna
Still under construction, please bear with me and continue to check back for additions and changes, plus text.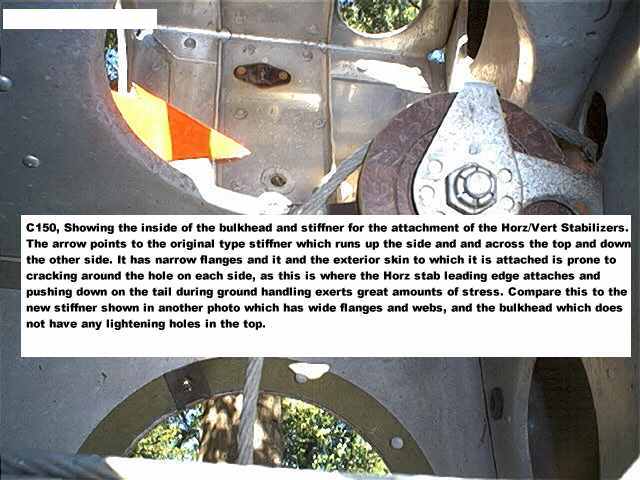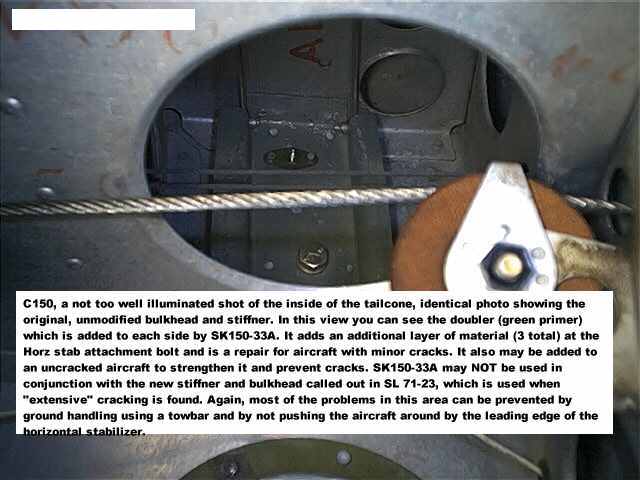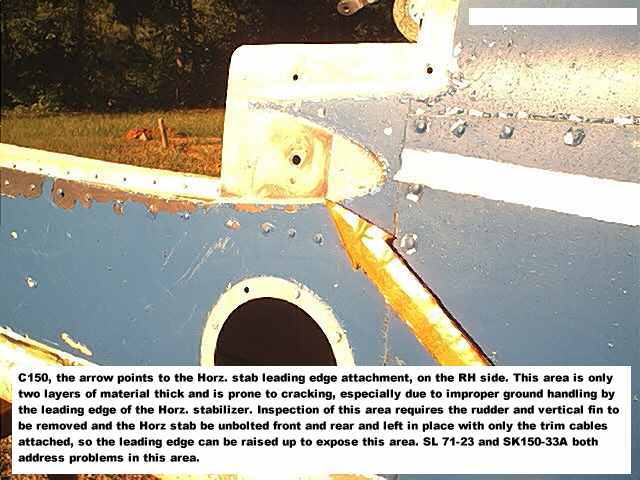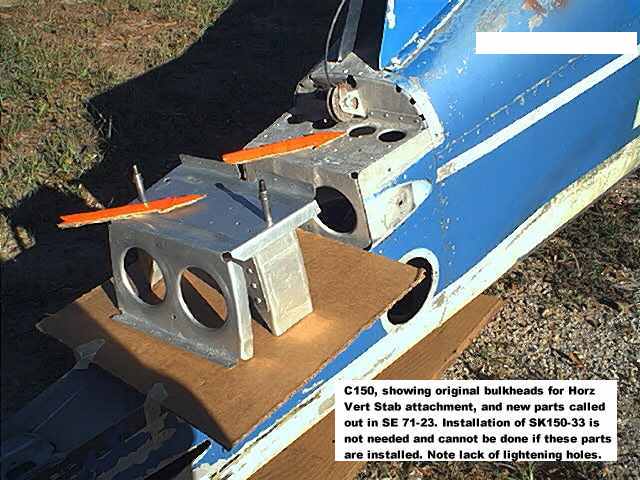 Service Kit SK150-33 is no longer available and Service Letter 71-23 which I reference below, was actually superseded by Service Letter 73-23 (don't mix up the similar numbers).
SL73-23 introduced two new kits SK150-43 and SK150-44. The first kit is for aircraft that have the original type bulkhead and stiffener, and it includes the new bulkhead and the new doubler shown on the right, in addition it includes external skin doublers to repair cracked skins in the area of the stabilizer attachment. The current version of the kit, SK150-43A is priced at about $440.
The second new kit, SK150-44 (now SK150-44A) is designed for later aircraft that already have the new type bulkhead and the doubler installed, or for older aircraft that had been previously modified by SL71-23, but still need to repair external skin cracks. This kit only includes the external skin doublers. The instructions for both kits are quite complete and SK150-44A sells for about $40.
I will include illustrations from the kit instructions when time permits.

This illustration shows the original
configuration bulkhead and stiffener in
the tailcone, with the two doublers
added by SK 150-33

This illustration shows the new bulkhead
and stiffener called out in SL 71-23 for
replacement of badly cracked parts.